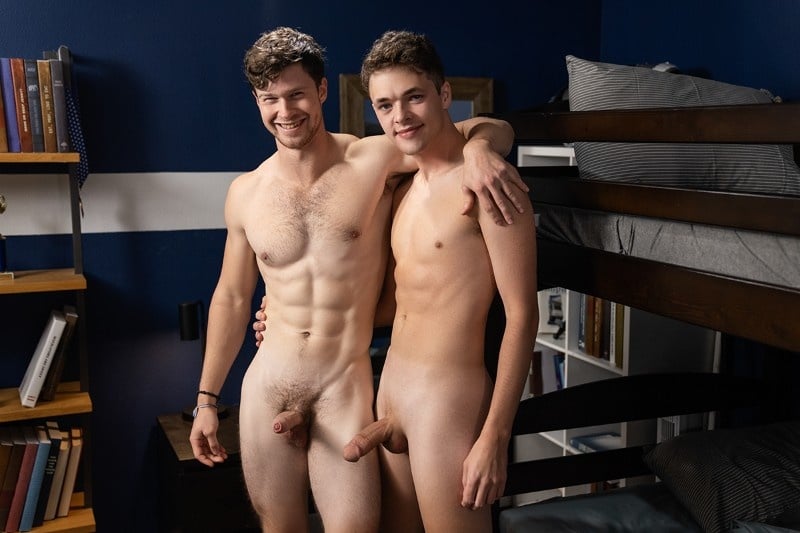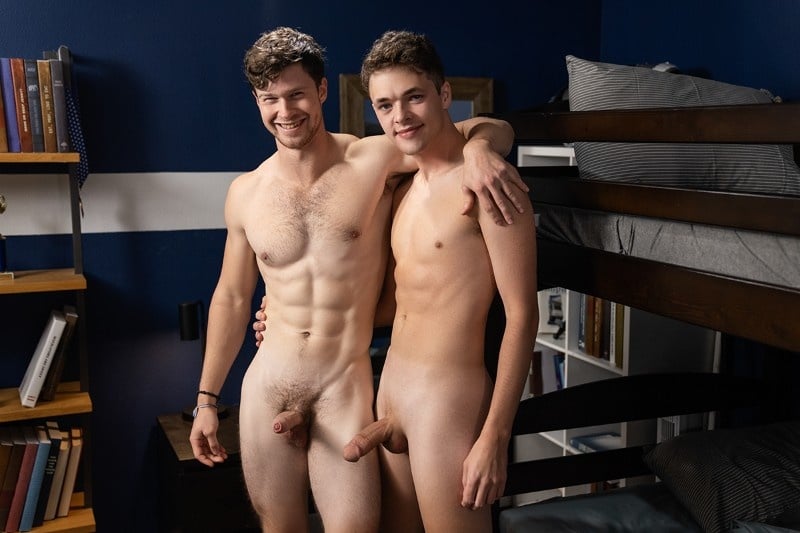 Finn Harding would rather stay in bed, but he needs to get to class. After his shower, the towel falls off while he's reaching for his underwear on the floor. At the moment, Troye Dean enters squats and motorboats Finn's ass.
Finn stands and turns around and Troye says, "Oh I'm sorry, I thought you were my boyfriend." Finn says, "Honestly, I'm super horny … I haven't fucked a girl for so long." Just then, Troye's boyfriend returns from class and says he needs a quick nap before the carry on with their plans.

Like Finn Harding? Watch Him in 32 Videos at MEN.com. Get a $1.00 Pass
Finn jumps on the top bunk and Troye takes the bottom waiting for his boyfriend to fall sleep. Finn doesn't wait, he sticks his huge cock through a glory hole in the mattress. After sucking the college stud's cock, Troye gets fucked doggy style.
They try keeping things quiet as they screw on the floor, but Troye can't help himself. His boyfriend is out like a light and doesn't hear Finn cumming on Troye's face.
This is Finn Harding's first fuck scene since November when he made his bottoming debut with Malik Delgaty. The pair fucked one another in the double first-time bottom scene and it's still playing at MEN.com.
Watch full scene at MEN.com
Read our MEN.com review